Jump to a project
Women in Wellies
4 day Business Training Workshop
Repairs to Kajo Keji Christian College
Charcoal Bread Ovens
[ps2id id='wellies' target="/]Women in Wellies
This project is now completed! Thank you for your interest! Please check out our Newsflash page to see pictures and updates.
We provided 300 pairs of wellies for South Sudanese women working on a refugee camp in Uganda to grow vegetables for their families. The wellies protected their feet from ants, scorpions and brambles as they work in the fields for several hours each day.
[ps2id id='business' target="/]4 day Business Training Workshop June / July 2019
(Click here to donate) Ref. 2019/001
Following a successful pilot seminar in July 2018 run by PDH Trustee Adrian Burholt,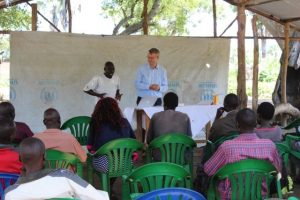 PDH is planning a 4 day event in June and July 2019. Seven business people from the UK will be joining the trustees on a trip to Morobi refugee camp in Uganda to provide training in business skills for young entrepreneurs. Some of these will have already set up a small business on the refugee camp, others will be aspiring to do so, and our aim is to give them the necessary training, support and encouragement together with setting up a Community Savings Fund to get them started.
PDH believes that the best way to help those in need is to give them the tools they need to help themselves. Small businesses thrive on the refugee camps and as well as providing a service to the community, they also provide employment and self esteem.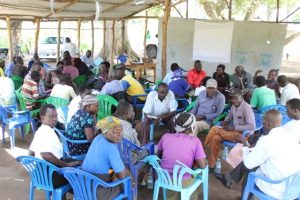 If you would like to contribute to the seed funding to help get a small business off the ground, please click here to donate Ref. 2019/001
[ps2id id='repairs' target="/]Repairs to Kajo Keji Christian College
(Click here to donate) Ref. 2018/002
In January 2017 fighting reached Kajo Keji, and the people were forced to run for their lives leaving everything behind them. This also meant that the Christian College had to be abandoned with the loss of buildings, furniture and equipment.
The college went into refugee status and found a temporary home in a former orphanage building in Moyo, Uganda where it currently shares a campus with the Diocesan Office. The Principal, Rev James Lue reports that there are increasing numbers of students for the three departments at Kajo-Keji Christian College i.e Theology, Education and Business Administration. They currently have total of 82 students studying in the College, 40 students studying theology, 31 studying education, and 11 studying business administration.
With a peace agreement now signed between the warring factions, there is now huge optimism that the college will be able to return to its own buildings in Kajo-Keji in the summer of 2019. However, there is much damage to repair as the buildings have been looted and stripped of wiring and pipework. There is also damage to the doors and windows all of which will need to be repaired before it can be equipped for training once again. Projects Delivering Hope is aiming to raise £80,000 to allow the work to proceed.

[ps2id id='bread' target="/]Bread Ovens
Click here to donate. Ref:2019/02
Bread is such an important part of the diet for millions of people around the world. Projects Delivering Hope has been asked to raise funds for the purchase of 10 charcoal bread ovens. These will
enable the women's community groups not only to bake bread for their own families, but also to sell it and make enough money to buy the ingredients and charcoal for the next batch.
Each oven costs £150 including a start up pack of charcoal, yeast and flour. There are 10 groups in need of an oven, so our target is £1,500 and following the success of our Women in Wellies campaign, we are confident that we can raise this money and get them baking bread. Please support this project by donating at https://www.give.net/CharcoalBreadOvens.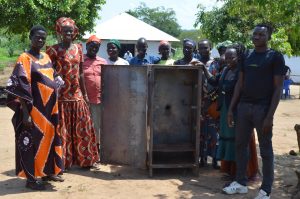 The bread ovens have 3 shelves which can take 20 small loaves each.
Or to donate to our General Running Costs click below.